$7.95 FLAT RATE SHIPPING PER WHOLE ORDER,
Continental Us Only, UPS Ground, take an extra 5% discount at checkout on orders over $300.00.
We have the best prices on the net for all items after shipping and handling. If you find a better price please let us know.
*Most Items are shipped same day on orders placed before 12:00pm Central Time.
(please see the ordering info page for more information and exclusions)






SEAT JACK BY JACK INDUSTRIES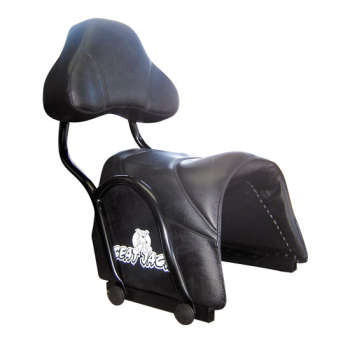 This seat jack for snowmobiles is designed to make your rides with a passenger easier and safer. There are different models for each individual snowmobile. Beside being easy to install, it is robust, comfortable and safe.
PLEASE CLICK ON YOUR MAKE BELOW
ARCTIC CAT
BOMBARDIER (SKI-DOO)
POLARIS
YAMAHA
SPI RUMBLE SEAT



- Includes 4 strap clips and 4 rivets
- For 2-Up riding, fits most backrests
- Cold weather vinyl, high density foam
- Converts solo seat into acceptable passenger seat
- Adjustable straps
AD621657
$45.93
and only $7.95 SHIPPING
UNIVERSAL DELUXE ADJUSTABLE SLIDER BACKREST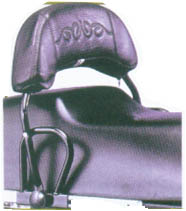 KIMPEX
Designed to fit most all models of snowmobiles * Available in two different heights (12" and 14") and widths
* Features a deluxe vinyl pad and a slide system that can be easily adjusted for either driver or passenger * Offers passenger back
support and hand grips * Black enamel finish * Strong * Lightweight * Optional cargo carrier available
DELUXE 14" HIGH KX12-350-01
STANDARD 12" HIGH KX12-350
BACKREST WITH RAILS AND HARDWARE
Description
Item #
Your Price
Buy Now
Fits 15-15 1/4" tracks (16-16 1/2" tunnel)
12" Back Rise Height
KX12-350
$159.95
and only $7.95 SHIPPING
Fits 15-15 1/4" tracks (16-16 1/2" tunnel)
14" Back Rise Height
KX12-350-01
$179.95
and only $7.95 SHIPPING
REPLACEMENT PARTS FOR ADJUSTABLE BACKREST
| | | | | | |
| --- | --- | --- | --- | --- | --- |
| Picture | Description | Fits | Item # | Your Price | Buy Now |
| | Cover Only | ADKX12350 ADKX123501 ADKX123502 ADKX123503 ADKX123504 ADKX123505 ADKX12360 ADKX12361 ADKX12370 ADKX12380 | ADKX123231 | $28.95 | NLA |
| | Thumb Screw Only | 5/16" NC Thread x 1-1/2" Long | KX1232401 | $8.95 | |
| | Sleeve - Spacer | | ADKX123242 | $1.00 | |
| | PLATE WITH THREADS 1" X 3" | FITS ALL ADJUSTABLE BACKRESTS | KX1232403 | $4.95 | |
| | Bushing Bolt Kit | Used to install ADKX12351 on to ADKX12350/ADKX123501 | ADKX123247 | $4.75 (set) | |
PASSENGER GRIP HANDLE

Polyethylene black passenger handle for maximum comfort and safety while riding behind the driver.
ADJUSTABLE BACKREST WITH CARGO CARRIER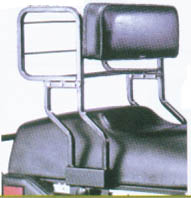 Fits snowmobiles with a 16 - 16-1/2" tunnel. Adjustable thumb screw so backrest can be moved backward or forward
on the snowmobile as needed. May also be removed completely! Carrier is wide enough (9" wide x 17" long x 9" deep)
to store a 6 gallon container (Anchor gas can). Complete with black pack pad and necessary hardware for mounting.
Description
Item #
Your Price
Buy Now
Adjustable Backrest with Cargo Carrier
KX1232101
NLA
NLA
Replacement Parts
Black Pad Only
ADKX12323
$29.95
Turn Screw
KX1232401
$8.95
Sleeve - Spacer
ADKX123242
$1.00
PLATE WITH THREADS
KX1232403
$4.95
Slide Rail Set
ADKX123244
$8.95 (set)
NLA