Item #
Your Price
Buy Now
ADWD040
$9.35
& ONLY $7.95 FLAT RATE SHIPPING PER WHOLE ORDER
UNIVERSAL TEMPLATE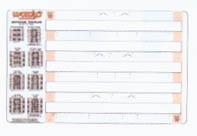 Three templates in one! Combines our Trail, Double Digger and Performance Templates all into one which has patterns from
48 to 192 studs with the exception of the 72 stud pattern. Two material standard template is heavy card stock with laminated finish.
Deluxe template is a clear polycarbonate for many uses.
| | | | |
| --- | --- | --- | --- |
| Type | Item # | Your Price | Buy Now |
| STANDARD | ADWD064 | NLA | NLA |
POLARIS/SNO CROSS TEMPLATE
| | | | |
| --- | --- | --- | --- |
| OEM # | Item # | Your Price | Buy Now |
| 5412329 | ADWD541 | NLA | NLA |
TEMPLATE
| | | | |
| --- | --- | --- | --- |
| Description | Item # | Your Price | Buy Now |
| Clear plastic. For Extended Tracks. 54, 72, 108, 144, 162. 12 Scratch Lines. | ADWD060 | NLA | NLA |