UNIVERSAL REPAIR MANUALS - SEE BELOW



SERVICE MANUAL
SMALL AIR COOLED ENGINE VOL 1
Repair small air-cooled engines on virtually everything using a small air-cooled engine, such as mixers, tillers, sprayers and lawnmowers. This small engine repair book edition covers 30 well-known manufacturers, over 500 basic model types and hundreds of variations on air-cooled engines with under 15 cubic inch displacement (both 2 and 4-cycle). 2- and 4-stroke air-cooled engines less than 15 cu. in (245cc) displacement produced through 1989
Item #
Your Price
Buy Now!
AD462877
$29.95
& only $7.95 SHIPPING and Handling
SERVICE MANUAL
SMALL AIR COOLED ENGINE VOL 2
2- and 4-stroke L-head and overhead valve engines to 6 hp from 1990-2000
This small engine repair manual covers more than 100 models by 15 manufacturers
Item #
Your Price
Buy Now!
AD462878
$29.95
& only $7.95 SHIPPING and Handling

SERVICE MANUAL
LARGE AIR-COOLED ENGINES VOL 2
Hundreds of illustrations, photographs, drawings and exploded views accompany comprehensive maintenance and repair information. Produced by a staff of editors with the mechanic specifically in mind.
COVERS THE FOLLOWING BRANDS: Acme, Briggs & Stratton, Craftsman, Honda, Kawasaki, Kohler, Onan, Tecumseh, Wisconsin and Wisconsin Robin.
Item #
Your Price
Buy Now!
S755136
$39.95
& only $7.95 SHIPPING and Handling
SMALL AC GENERATORS
First Edition - Volume 2
Covers complete maintenance and repair for most portable generator models
Item #
Your Price
Buy Now!
S755120
$41.44
& only $7.95 SHIPPING and Handling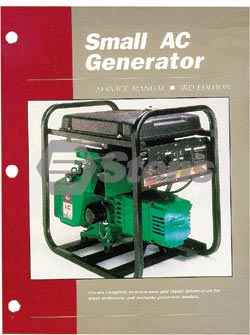 SMALL AC GENERATORS
Third Edition - Volume 2
Covers maintenance and repair for most stationary and portable generator models
Item #
Your Price
Buy Now!
S755128
$35.95
& only $7.95 SHIPPING and Handling